A big update release to FormIt is now available on the web or for Windows. Enjoy a new Dynamo experience, BIM 360 Docs, Meshes, Plugins, Orthographic Views, more Visual Styles, Material placement adjustment, Non-Uniform Scale, and more!
https://formit.autodesk.com/blog/post/introducing-formit-v17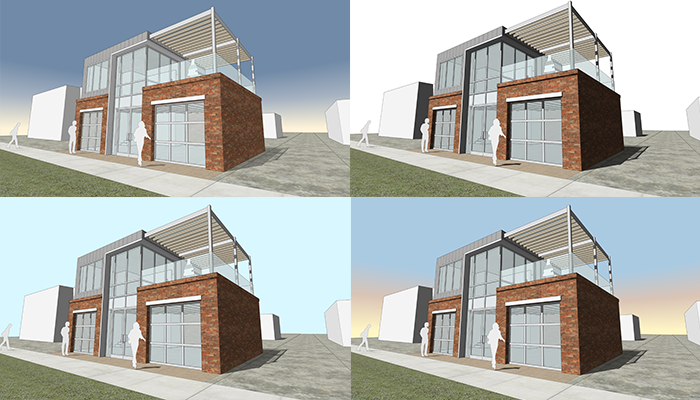 Give the web version of FormIt a try, there nothing to install.
https://app.formit.autodesk.com/
https://formit.autodesk.com/page/release-notes/#release-notes-web
Enhancements
Significantly improved app loading time, especially when the app was run previously in the browser and a cache from the previous session exists.
A new geometry type: Meshes. Meshes are great for improving performance of high-polygon entourage like furniture, trees, people, and signage, as well as complex DWG files. Objects can be converted to Meshes and back with no data loss. Also added Meshes to the Selection Filter menu.
Added orthographic elevation views: view your FormIt model in 2D orthographic elevation, and combine with Section Planes to enable section-elevations.
Added a Non-Uniform Scale tool.
Added support for standalone vertices, and added Vertices to the Selection Filter menu.
Added the ability to use Tab to pre-select edge loops on 3D shapes. Learn more about Smart Selection.
Added an interactive Sun Editor to visualize the sun's position in the sky.
Service Changes
Switched to BIM 360 Docs for cloud file hosting, which enables Open/Save/Export operations to multiple BIM 360 Docs accounts and projects.
Switched to Bing Maps for Location and Satellite Imagery services.

Thanks to this change, Satellite Imagery will no longer be excluded when exporting images from FormIt.

Migrated Materials, Collaboration, Energy Analysis, and login services to new Autodesk servers to improve security and stability.
Improved the Energy Analysis service, and fixed an issue where running Energy Analysis twice on the same file name would fail.
Fixes
Improved performance in large files, especially during continuous operations (Move, Rotate, Extrude, Scale…) and while editing Groups.
Improved performance of Undo/Redo operations in large models.
Improved performance of Extrude Edges by previewing the result instead of applying the result in real-time.
Fixed issues that would prevent FormIt models from opening in some scenarios.
Fixed a crash when multi-extruding faces that resulted in a deleted mass.
Fixed a crash when quick-copying geometry using Move + Ctrl in certain cases.
Improved model lighting calculations, so models should appear slightly brighter, shadows are more accurate, and in the case of imported SketchUp files, ambient lighting should match the original file more closely.
Fixed an issue where shadows would not render correctly on the ground plane for certain models, especially those originating from SketchUp.
Fixed an issue that would result in shadows not displaying correctly for objects far away from the origin.
Fixed an issue where faces would not split as expected in some scenarios, including when offsetting a face and importing certain SketchUp models.
Fixed an issue where Shell Solid would result in unexpected geometry when the original solid had split faces painted with different Materials.
Fixed an issue where skewed geometry in SketchUp wouldn't convert correctly to FormIt.
Fixed an issue where using Cut Geometry to split a solid into two would result in two solids, but the selection tool would still treat them as one solid.
Fixed an issue where Levels could not be applied to masses in certain conditions.
Fixed an issue where Ungroup would result in an "Exception caught" error in some cases.
Fixed an issue where Copy and Paste/Paste in Place would occasionally fail when copying Materials between different windows of FormIt.
Fixed an issue where the dimension readout would be misaligned with the gap in the leader lines.