The Autodesk Design Night last Thursday night was absolutely amazing, and sold out (as usual.) The evening's theme was the oceans and focused on using technology to better understand the oceans. My colleagues Jonathan Knowles and Maurice Conti put the evening's event and amazing list of speakers and exhibits together. Jonathan and Maurice lead the Autodesk Maritime Research and Development Team which is within the Office of the CTO and dedicated to focusing on all things ocean for Autodesk. Many activities in addition to some very special guest speakers filled the evening and got the attendees thinking about what goes on, lives in, and is changing under the surface of the ocean.
Guest Speakers:
Dr. Lesley Ewing - California Coastal Commission Senior Coastal Engineer.
Erika Bergman - Submarine Pilot, National Geographic Young Explorer, and founder of Girls Exploration & Engineering Camps.
Dr. Sylvia Earle – Marine Biologist, Author, National Geographic Explorer, and TED Prize winner.
While it was not planned, it was amazing and many noticed at the 3 guest speakers all being  women. I wish my 13 year old daughter could have attended and been inspired by these amazing women involved in science and exploration of the ocean. What an honor it was to meet and hear these speakers and watch them educate us all on the ocean's current challenges.
Quotes:
"The Stone Age didn't end because we ran out of stone."  - Dr. Lesley Ewing
"Most of life on Earth lives in the dark all of the time." – Dr. Sylvia Earle
"This is pretty exciting. Like walking into traffic with teeth."  - Dr. Sylvia Earle on diving with sharks
"Exploration is the physical evidence that science rules." – Erika Bergman
"The ocean is alive and many colors, not just blue."  – Erika Bergman
"Girl power!"  – Erika Bergman
There were several great activities and exhibits from Aquarium of the Bay exhibit on sharks and seals to myself and teammates talking about our maritime research gear and projects to dissecting squid or making saltwater taffy which were lucky located a safe distance apart.
Some photos:
Packed event!

Erika Bergman speaking.

3D printed coral one from an Autodesk Ember and one from a Objet. The coral model was created by Marine Ecologist Sly Lee of the Hydrous using photos to create a 3D model using Autodesk Project Memento.

Dr. Sylvia Earle speaking.



Dr. Sylvia Earle and myself with the 3D print I had created of her submersible for her.

Where else would you get to see a hammerhead shark pulling saltwater taffy?

Jason Medal-Katz playing in the large plastic mold for the submersible dome by DOER Marine.
Jonathan Knowles showing live Prochlorococcus which lives in the ocean and may be responsible for more than 50% of earth's oxygen.

The video recordings of the speakers should be available in the near future.
NEXT:
The next Design Night "Made to Order" covering 3D printing and making things was just announced and perhaps sold out by the time you read this.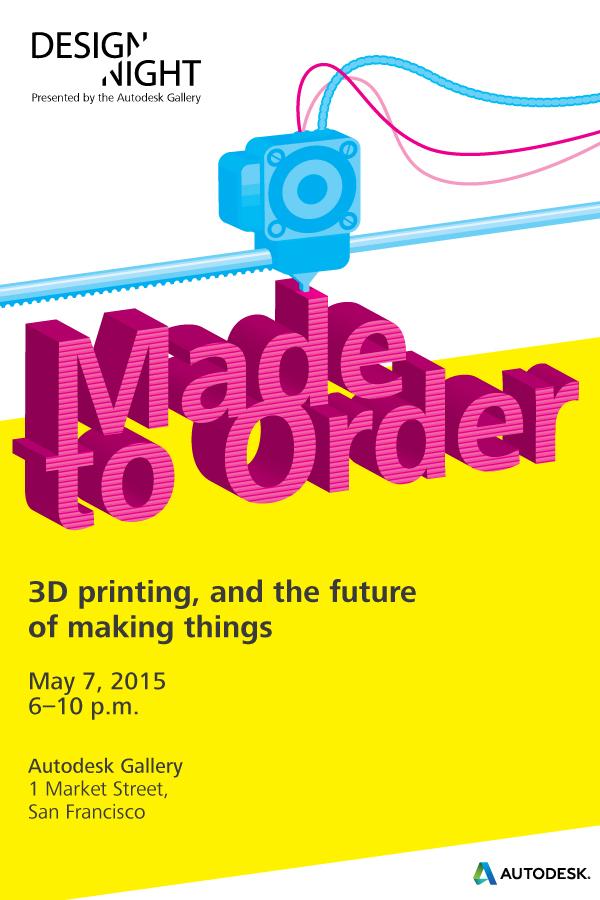 Thank you everyone that made this such an amazing event!

Cheers,
Shaan